© 2011 Inland Blue Records. All rights reserved.

P.O. Box 312, Mentone, CA 92359 | email: info@inlandbluerecords.com | call: (951) 201-6722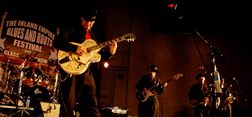 For the love of the music.

LEVELING THE PLAYING FIELD FOR ARTISTS

Our goal is simple- the provide the opportunity for quality musicians to compete in the global music market. With the dramatic shift to independence in the music business, we want to give artists the tools and knowledge to be successful in the 21st century.

THE SECRET OF OUR SUCCESS

We are all artists, recording engineers, and songwriters. We understand the difficulties involved in navagating the biz, and how to maximize an artist's impact.

We also do all of our own recording at BPTCB Studios, cutting out the middle man and reducing costs to the artists/label.

We genuinely care about artists and go above and beyond to provide the best support.  We do these things, and more, while providing the public with the best music at a good value. 

INTERESTED IN JOINING THE FAMILY

We are always looking for new artists and new music lovers to help with the cause. If you have ideas how we can make a better product or serve you better, we'd love to hear from you.

THE BEST IN LEFT COAST SOUNDS.

Check out our all new live music web show:

INLAND BLUE SESSIONS

Got a question or comment?

Name:

Email:

Question/Comment: